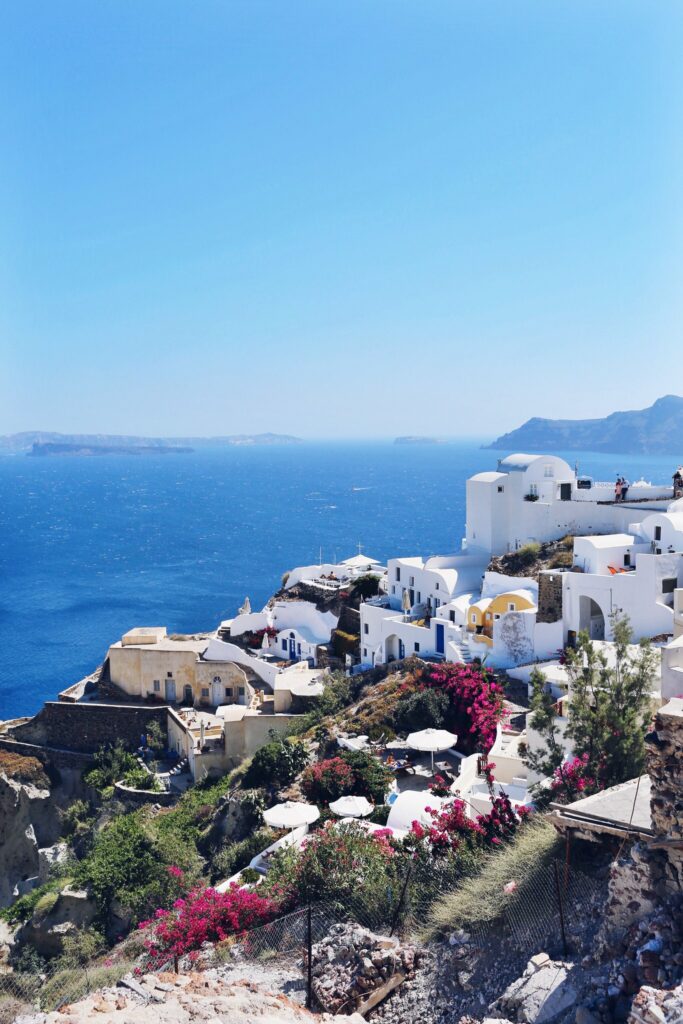 The village of Oia will take your breath away
TRAVEL GUIDE TO OIA, SANTORINI. One of the most famous and beautiful islands in the Aegean sea is without a doubt Santorini and the hillside fishing village of Oia where people from all over the world travel to enjoy the intense sunsets, breathtaking views of the caldera and the white stoned houses with blue details that the village of Oia is filled with. I have received lots of questions throughout the years if it's worth going to Santorini, is it worth the price and is it living up to its reputation? And I must say, yes, Santorini and especially Oia is absolutely breathtaking and I would say worth the price, if you know where to go and what to experience you will have memories for life from this place. I have so many strong and fond memories from this island that I would like to share with you in this guide. My favourite hotels, restaurants and cafes that you can enjoy while being on this gorgeous Aegean island. One thing that I would like to express before we dive in to this guide is that I do believe that Santorini and Oia is the perfect place for romantic couples to go to. I would not recommend families with kids travelling here as the whole village is built on steep stairs, it is not the place for strollers and children.
But if you are a romantic couple, looking for a Aegean island get away I would highly recommend you to nestle up on this cliffside village with the most scenic views over the ocean. I would also say that this place is a perfect spot to pop the question on, preferably during one of the island's breathtaking sunsets.
Oia has an incredible selection of high quality restaurants and I have selected some of my favourites here below:
RESTAURANTS
Karma
I love this beautiful and peaceful courtyard filled with wonderful flowers and shade, the perfect place if you want to hide away from the sun for just a little bit. I would recommend you to come here for either breakfast or lunch, their selection for breakfast is absolutely lovely. Most definitely worth a visit or two.
Website: www.karma.bz
Ammoudi Fish Tavern
Framed between volcanic red rocks and the Aegean sea, Ammoudi Bay is a tiny fishing port located about 300 steps below the town of Oia. The views are spectacular at any time of day, but it is pure magic bathed in the golden glow of the setting sun. The cuisine is modern but also traditional, exuding Mediterranean air and giving value to the Greek, local, Mother Earth products. This tavern is a must visit when in Oia.
Instagram: @ammoudi_santorini
Website: www.ammoudisantorini.com
Armeni restaurant
Another one of my favourite taverns located in Armeni bay by the water with stunning views. Make sure to try the fried prawns wrapped with kataifi pastry, grilled octopus, local lobster and fresh sardines, they are all delicious.
Instagram: @armenirestaurant
Website: www.armenisantorinirestaurant.gr
Candouni
This family owned restaurant is a super intimate and romantic spot slightly hidden away from the public. It's a marvellous spot for a romantic date night. The food is cooked by the mother in the family and it's traditional and comforting. Make sure to try the grilled halloumi or the fried aubergine with courgette slices.
Website: www.candouni.com
Elinikon
This restaurant is also an intimate and romantic place to head out to for a delicious authentic Greek meal. With views over both windmills and the sunset. The view doesn't get much more Greek than this.
Website: www.elinikonoia.com
Ambrosia
A more upscale restaurants with stunning views over the caldera, incredibly romantic. Make sure to make a reservation well in advance to get a table here.
Instagram: @ambrosiarestaurantsantorini
Website: www.restaurant-ambrosia.com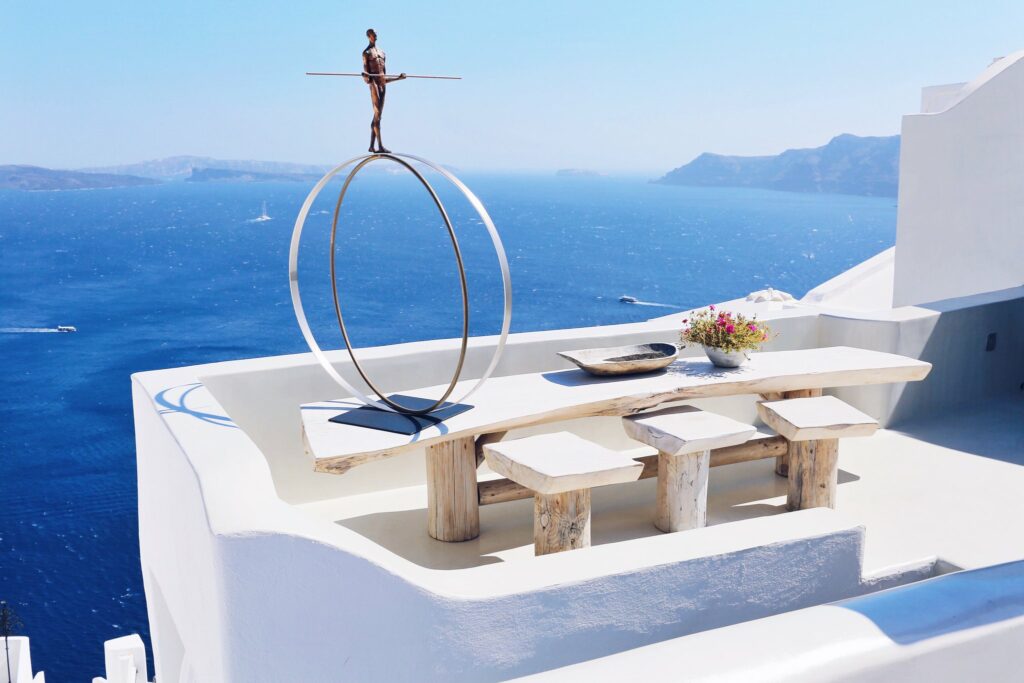 Exploring the village of Oia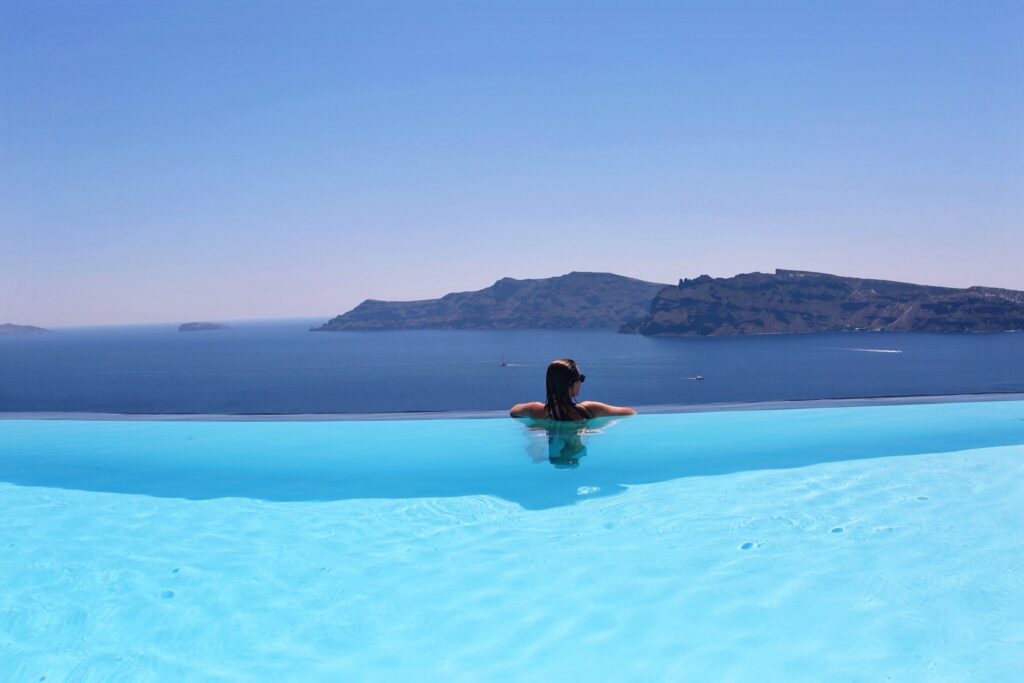 The stunning infinity pool at Perivolas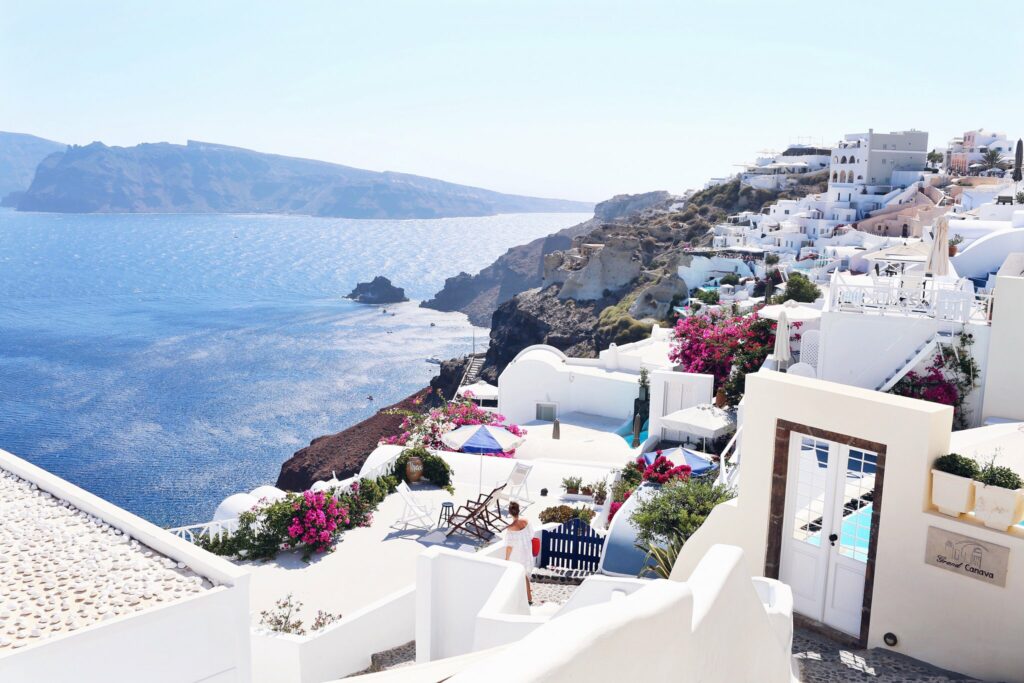 The views are truly breathtaking wherever you look on Oia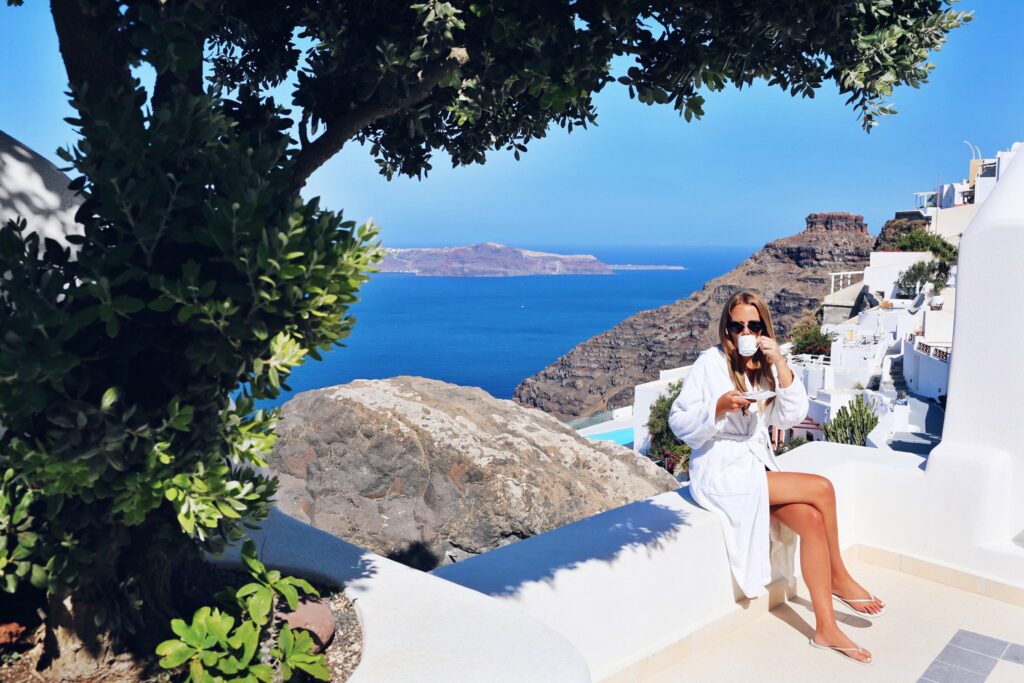 Drinking my morning tea on our terrace at The Tsitouras Collection
I would say that Oia on Santorini offers a very unique experience in terms of hotels and other accommodations that is available on the island in terms of renting. Santorini is famous for its cave like hotel rooms with private little mini pools or terraces with stunning views over the caldera. It doesn't get much more private nor romantic than this on Santorini. Johan and I have stayed at a couple of different boutique hotels in Oia and I want to share some of my favourite experiences with you as well as talk about some new exciting openings that is currently happening in Oia.
HOTELS
Perivolas – I have such fond memories from our stay at the Perivolas, the cute pink and purple details in the cave like rooms, the beautiful pool with stunning views over the caldera. The quality was on point all the way through the experience. A perfect luxury boutique hotel to stay at when you want a romantic get away to experience the beauty of Oia and Santorini.
Instagram: @perivolashotel
Website: www.perivolas.gr
IKIES – Ikies is a luxury boutique hotel of 13 Villas & Suites located in Oia. It's boutique size, exceptional location, elegant design and charming range of luxury accommodations. Johan and I stayed in one of their traditional houses and it was the most beautiful and romantic accommodation that we experienced during our stay in Oia. This is the accommodation to choose if you are coming here on your honeymoon and want to take it to the next level. Here is a room tour of our traditional villa if you want to see more images.
Instagram: @ikies_santorini
Website: www.ikies.com
THE TSITOURAS COLLECTION – I was very intrigued by the history of this very picturesque boutique hotel and that's why I wanted to stay here so we could discover it more. The mansion was built back in 1780 and in 1985 it was bought by Dimitri, a Greek art collector, he wanted a place to store his art collection as well as having a place to host his friends and family when they come to visit in Santorini. The mansion went under a massive renovation to be able to take care of the property and bring in it to the future in a healthy condition. They created 5 stunning suites, each suite has it's own historical take to it as well as color scheme. It was with the push from his friends and family that stayed at the mansion that made him open up the mansion to the public and turn it in to a luxury boutique hotel.
Instagram: @tsitourascollection
Website: www.tsitouras.com
ANDRONIS – Andronis is renowned for its tranquility and unique sense of elegance with beautiful panoramic views over the Aegean sea. The 33 award-winning Santorini luxury suites and villas are built in traditional style within the picturesque jigsaw of houses in Oia. I would recommend you to book dinner at their spectacular restaurant Lycabettus if you are celebrating something extra or are just in the mood to experience a gastronomic evening by chef Christos Karagiannis.
Instagram: @andronisboutique
Website: www.andronis.com
CANAVES – A stunning luxury hotel located in Oia with cave like rooms with private plunge pools and terraces, depending on your choice. I would also recommend you to do a dinner reservation at their restaurant Petra located on a stunning terrace with breathtaking views over the sunset.
Instagram: @canavesoia
Website: www.canaves.com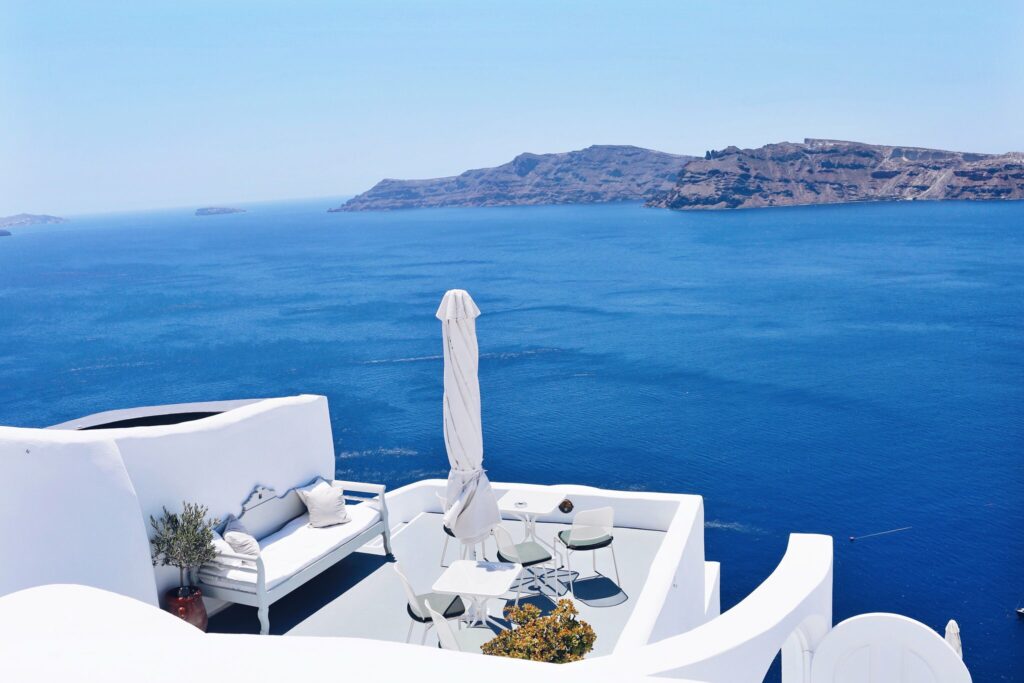 Checking in to the stunning luxury boutique hotel of Ikies Santorini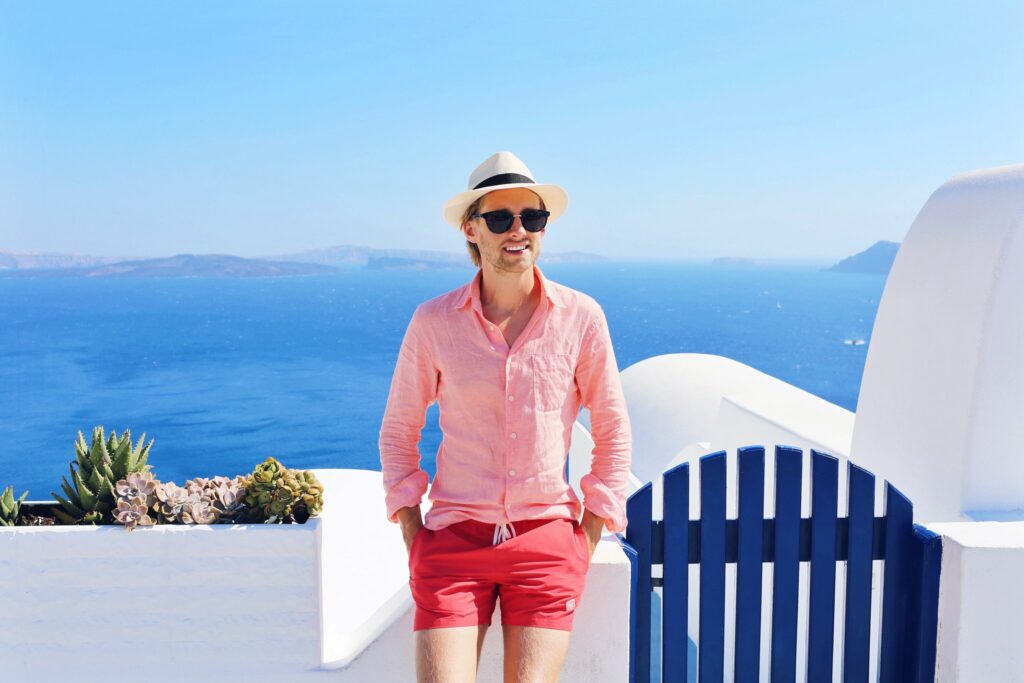 Walking around in the super romantic village of Oia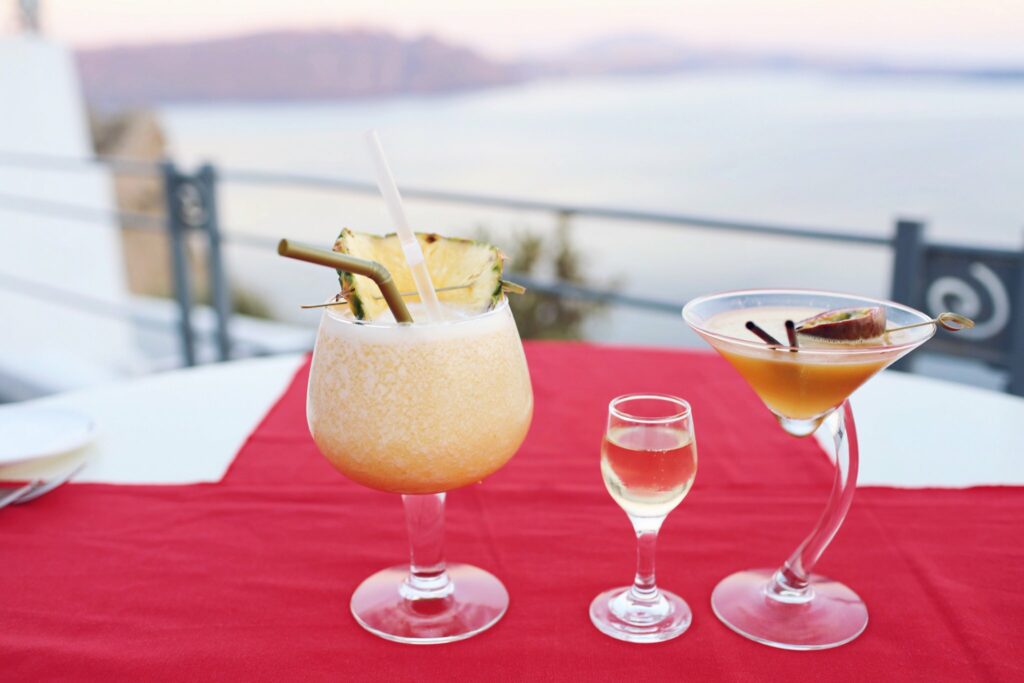 Sunset cocktails at Andronis Boutique Hotel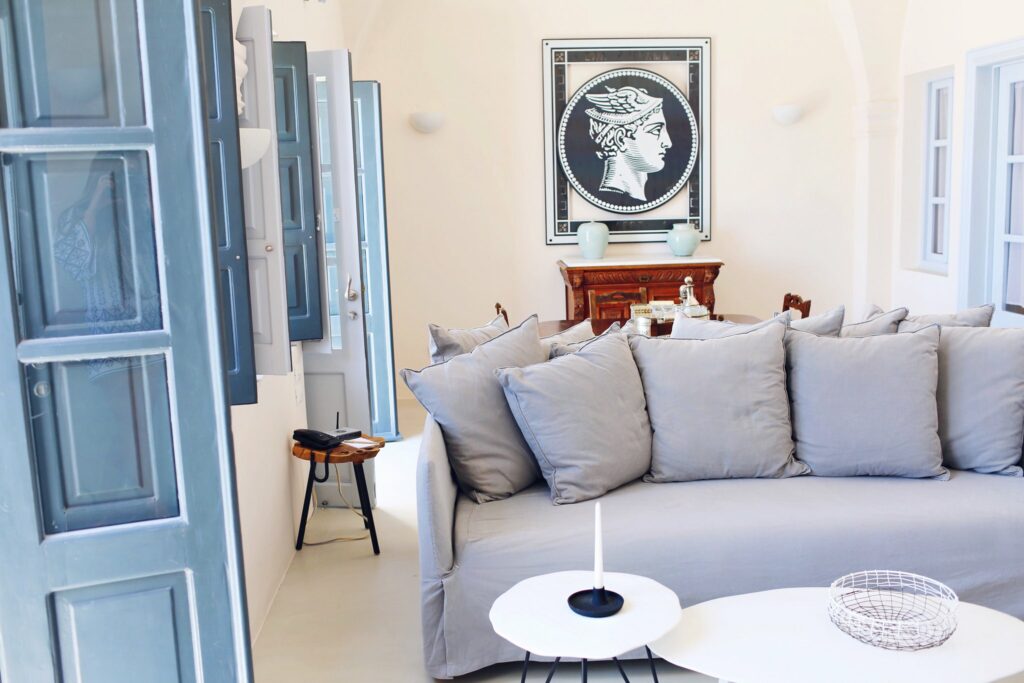 Our beautiful living room at Ikies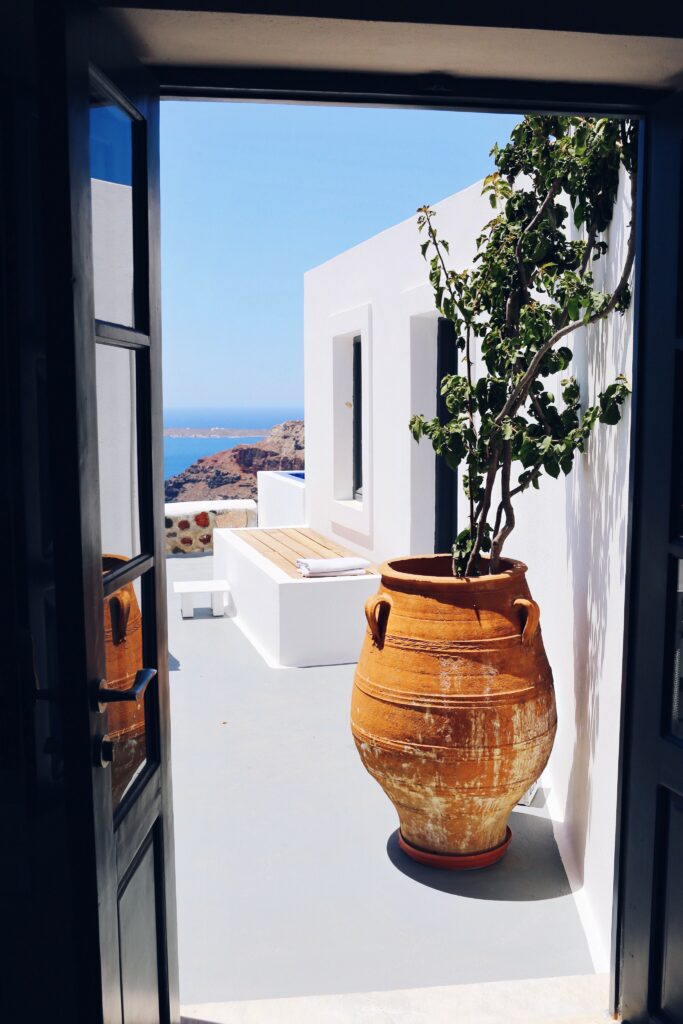 Walking out to the private terrace of the villa at Ikies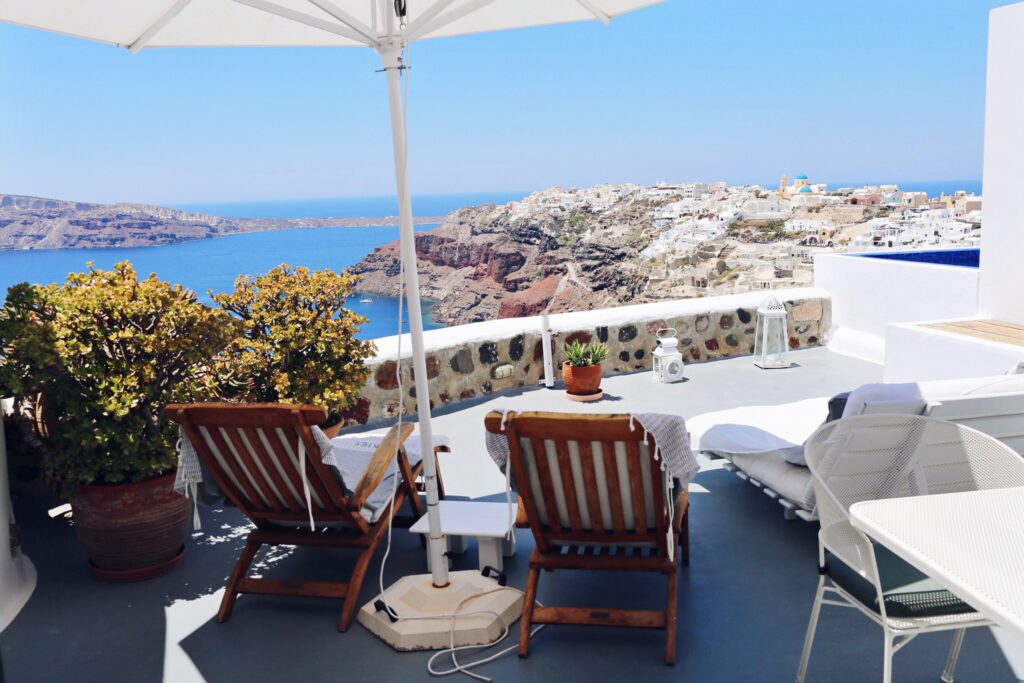 The private terrace of oue villa at Ikies, the view over Oia was just extraordinary, watching the sunset from here was next level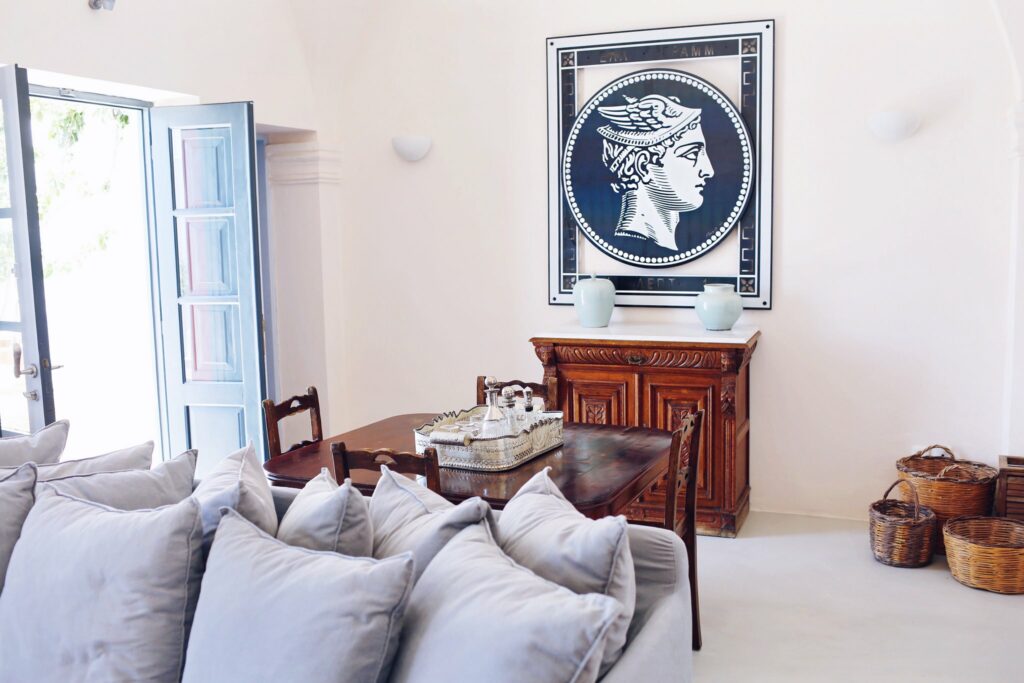 The dining area of our villa at Ikies
CAFE & BAR
39 STEPS – My favourite cafe in Oia to come and enjoy an iced Greek coffee and a lighter bite. They don't have a website or Instagram so just add their name in Google maps and hope for the best.
Facebook: 39 Steps Oia
MELITINI – This is a super cozy and genuine cafe to come to for a drink or something light to eat. Most definitely worth a visit if you are in Oia.
Instagram: @melitinioia
Website: www.melitinioia.com
MES AMIS – This coffee shop is the place to go if you are looking for delicious Greek coffee.
Website: www.mesamis.gr
SUN SPIRIT – An absolutely marvellous spot to go to for a sunset drink.
Website: www.sunspirit.gr
PASSAGIO OIA – One of the most beautiful places to enjoy a coffee or drink in Oia. A lovely place to enjoy your breakfast.
Instagram: @passaggio.gr
SUNSETS – This is both a bar and restaurant. I would recommend you coming here for a golden hour drink. Absolutely stunning views.
Website: www.santorini-sunsets.com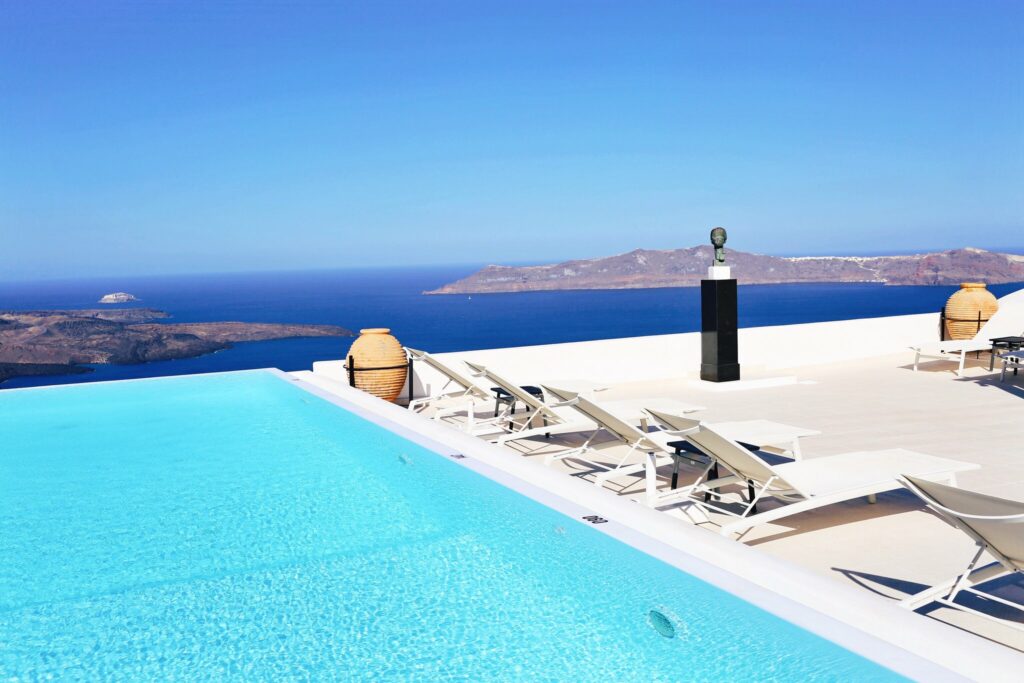 The beautiful infinity pool at The Tsitouras Collection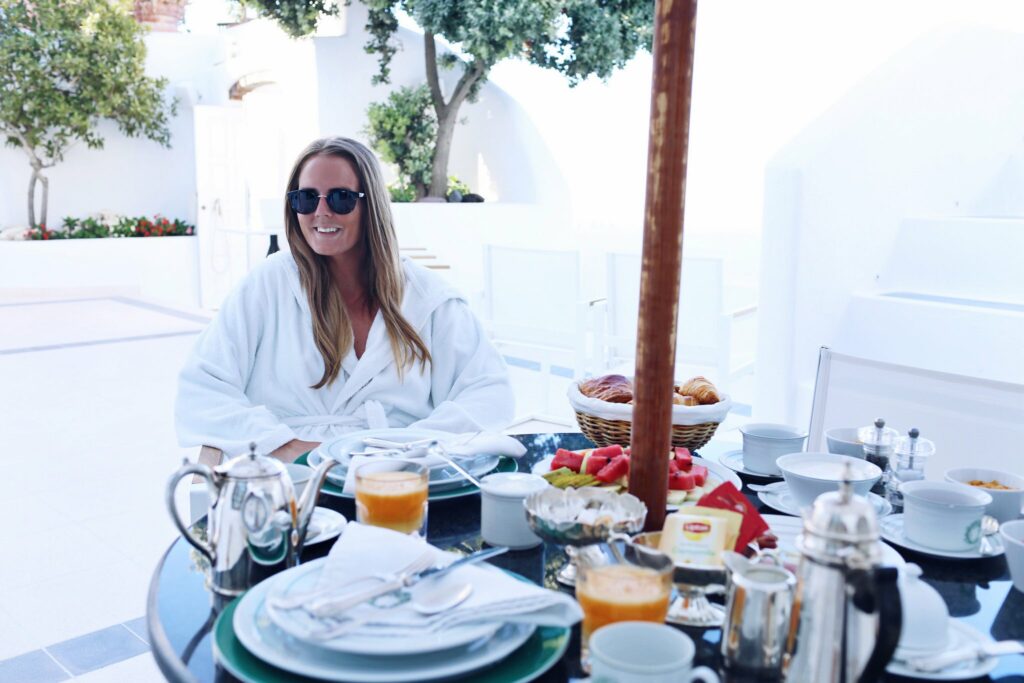 Breakfast on our terrace on The Tsitouras Collection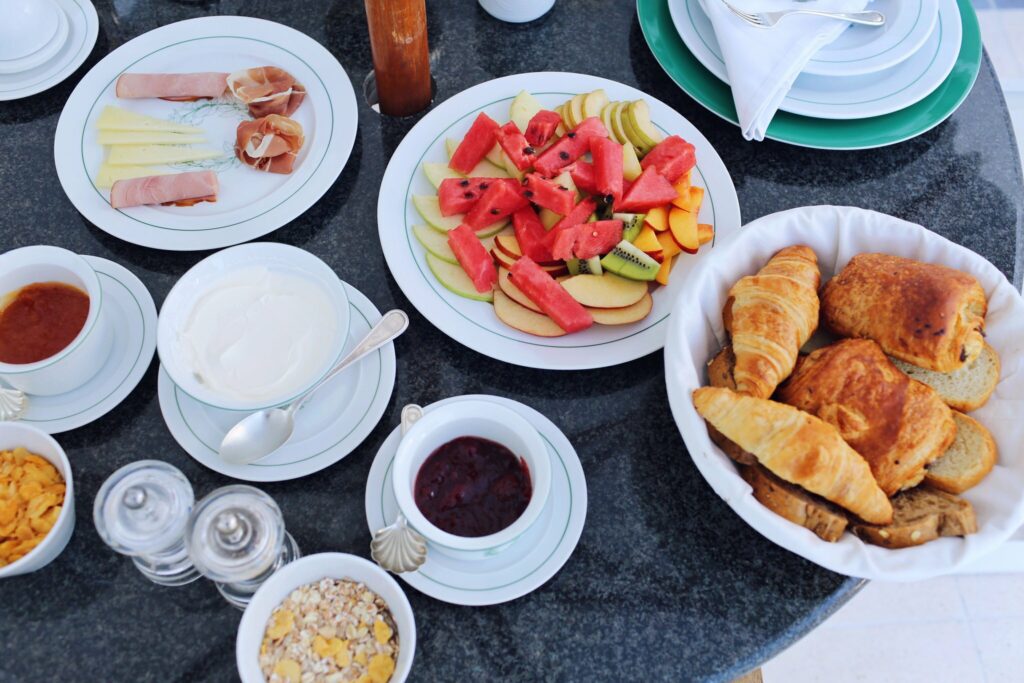 Eating Greek yoghurt and fresh fruit every morning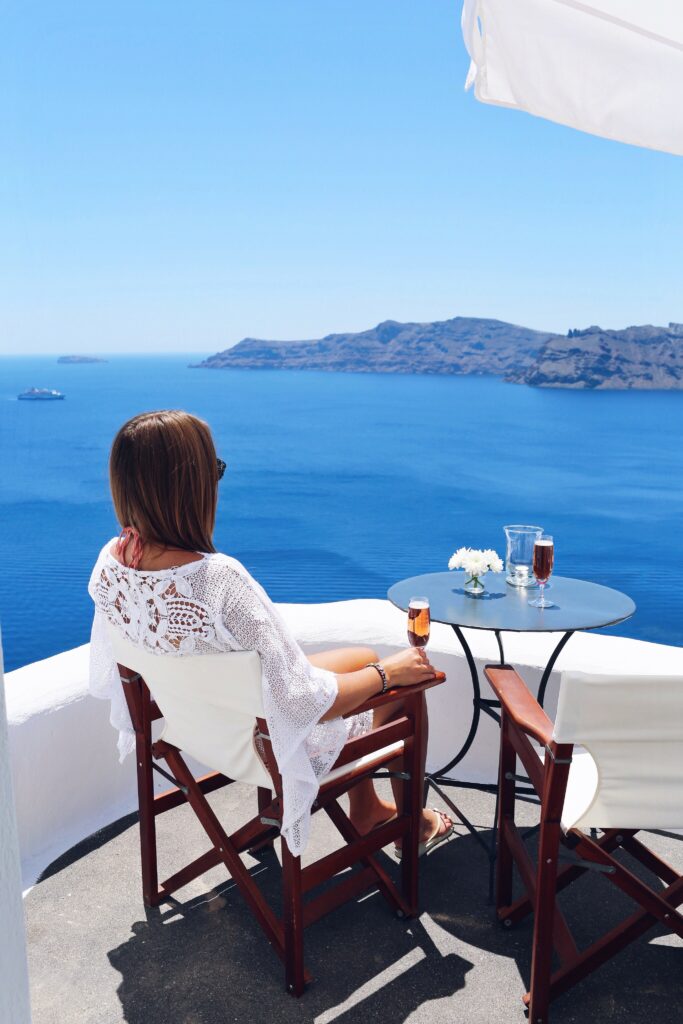 Our terrace at Perivolas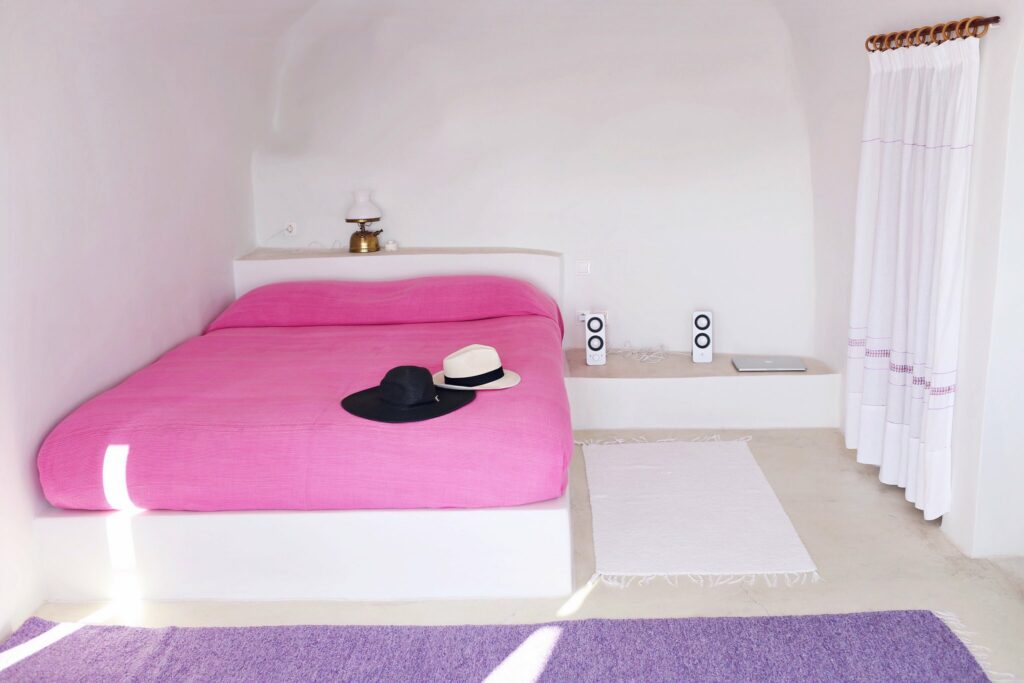 Our bedroom section at Perivolas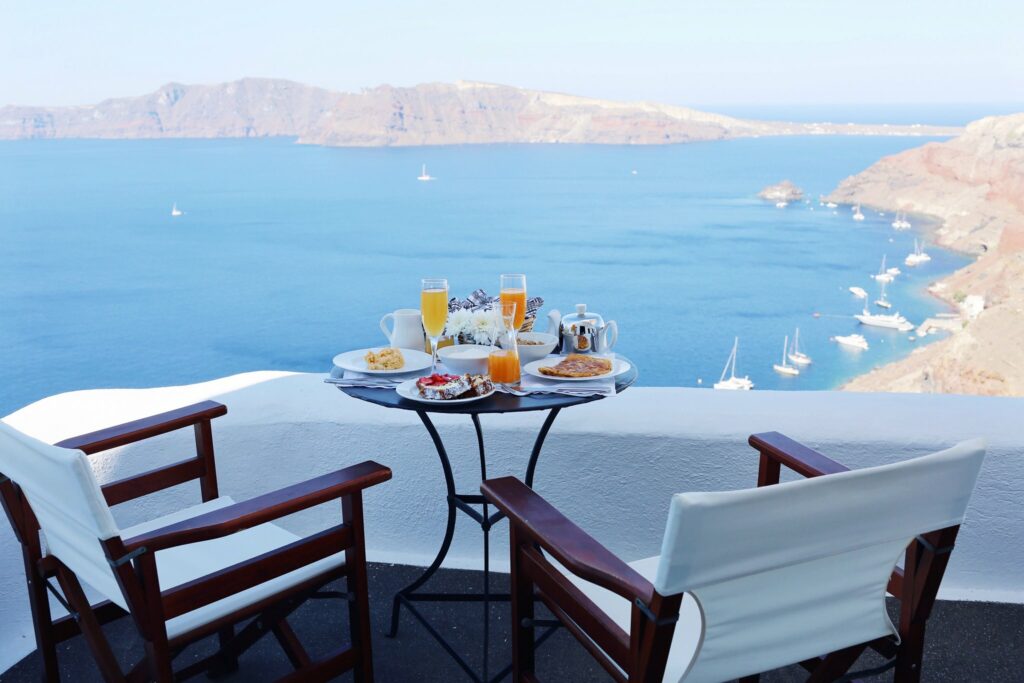 We always enjoyed in room breakfasts during our stay on Santorini, a much more private and romantic setting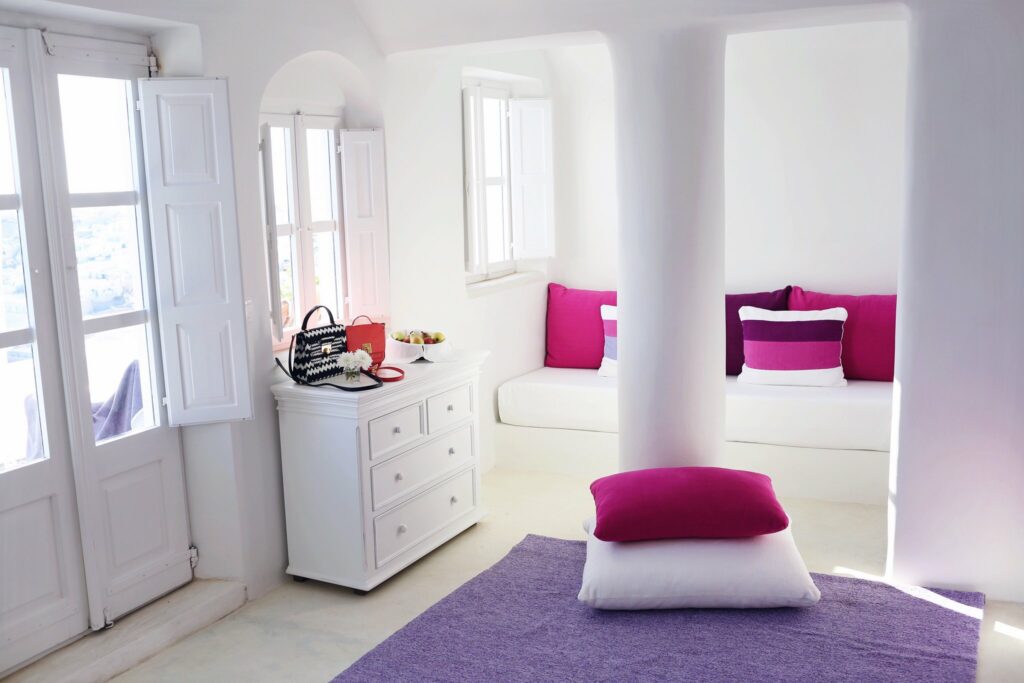 Our room at Perivolas