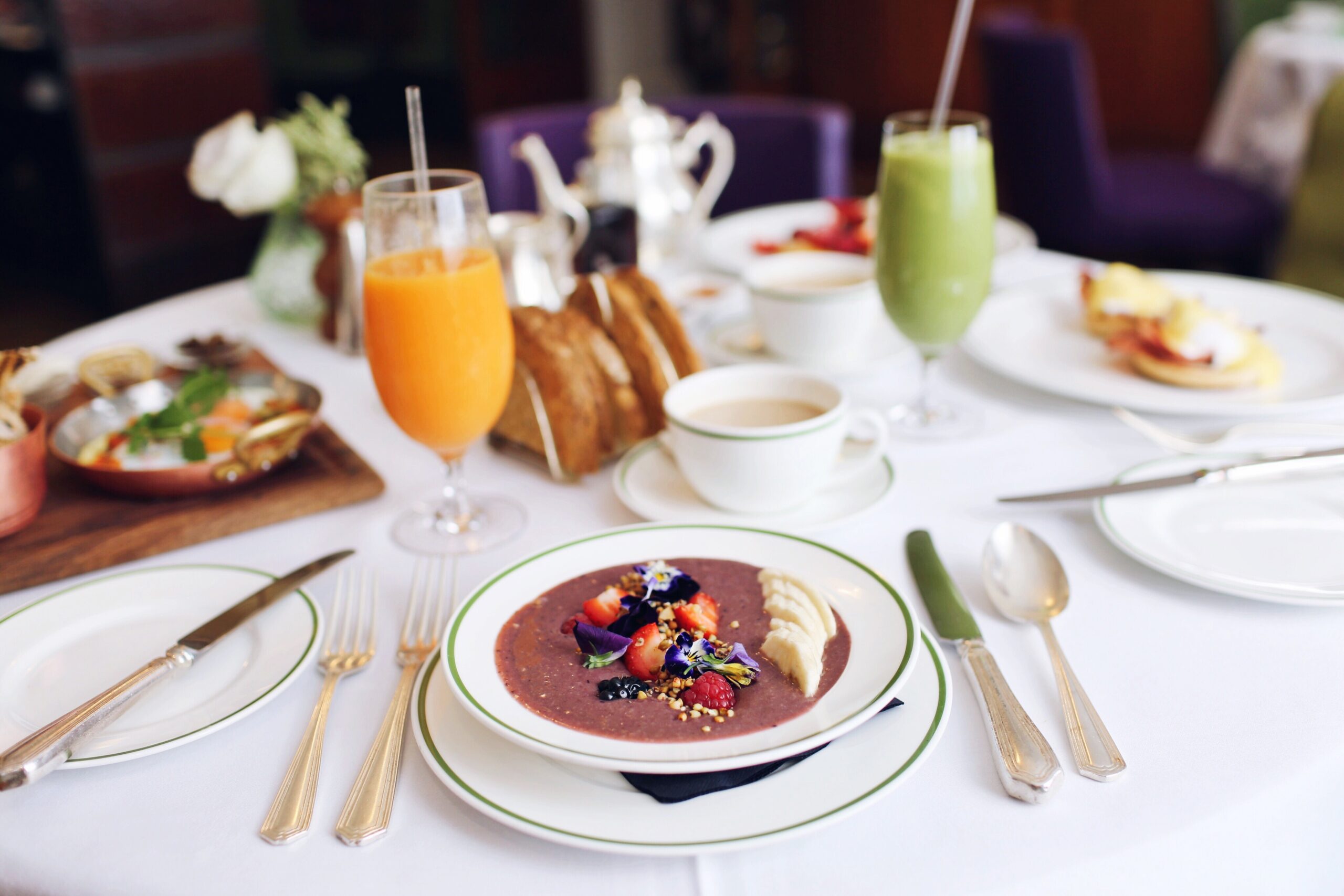 BREAKFAST AT HIX. I love living in hotels, everything from have crispy fresh sheets every night to roomservice at the dial of a button, not having to make breakfast, not having to clean after breakfast! Life lived in hotels are always a bit more relaxed and luxurious! The breakfast part of the hotel experience is my favourite part though, when we are back home in Stockholm I'm very basic in terms of what I eat, I have a cup of tea, I eat porridge with sliced banana, fresh blueberries and raspberries on top and I might also have a avocado toast, depending on how hungry I am. But when we are travelling out in the world the world of amazing breakfasts open up and as passionate we are about food it's the dream situation! This is the third time that we are staying at Brown's Hotel in Mayfair, we have been coming back here since 2013. We have stayed at so many brilliant 5 star hotels around the world and each hotels bring their unique touch to the experience but sometimes you stay at hotels that have that little extra that makes you want to come back, year after year after year and that's exactly the effect that Brown has had on both Johan and me. We need to come here overtime we are in London to get our Brown's fix. And if we are not staying here we make sure to come for a afternoon tea experience, a cocktail at the Donovan Bar, brunch or dinner.
Brown's currently have a collaboration with health coach and nutritionist Madeleine Shaw, she has developed a healthy meny for the guests of Brown's for breakfast/lunch/dinner and I think this is such a brilliant collaboration! The last past few month I have really started to think about what I'm eating when we are out travelling and I indulge quite a bit, I think you should always indulge in life and enjoy the foods you love but if you travel for over 120 days per year like Johan and I currently do it's not realistic to eat 10 eggs benedict per month. Even though we stay at amazing hotels I think it has been quite hard to keep the healthy eating consistent, they have some more healthy dishes here and there but I wish there were more options available so I was so excited about this collaboration that Brown's has going on with Madeleine Shaw. We started our breakfast with a juice, I had their cold pressed juice made of carrots, ginger and orange juice, it was divine, just the kind of flavours that I love. Johan had their 'Green machine' which was a bit more like a smoothie in regards of its texture. As for food I had their acai bowl to begin with and it was  divine, I could have just kept on pouring it down my throat, it was so delicious and beautifully presented! I also tried their 'Shakshuka' with kale & cumin baked eggs with crackers, greek yoghurt, olives labneh cheese and toasted pinenuts. I was so happy with both my choices, I can highly recommend them both! Johan didn't choose the health road this breakfast, he ordered their eggs benedict and their dropped scones, both dishes that we love had that we have ordered since back in 2013 when we were here for the first time! I love a good eggs benedict but it feels so good to fuel your body with greens and goods so I want to continue this more healthy road that I am on, of course I want to be realistic about it and once in a while I will indulge in sweets and chocolates but for the main part of my everyday life I want to keep it green! It feels so much better, from the inside and out!
BREAKFAST AT HIX. Jag älskar att bo på hotell, allt från att ha krispiga lakan varje kväll till roomservice, in room breakfast, slippa göra frukost, slippa städa efter frukost, slippa städa efter sig själv. Livet är alltid lite mer bekvämt när man bo på hotell! Men frukostdelen är nog min favorit, att få fantastiska frukostar serverade varje morgon tar priset utan tvekan! Jag är inte den som stället mig och slänger ihop en eggs royal på morgonkvisten utan är väldigt enkel när det kommer till frukost när vi är hemma i Stockholm, jag gör en kopp te, äter råggröt med färsk frukt på (Favoriten är skivad banan, blåbär samt hallon) samt avokado på knäckebröd. Detta är tredje gången vi bor på Brown's Hotel i Mayfair, ett hotell vi har kommit tillbaka till sedan 2013. Det är vissa hotell som verkligen gör ett djupare intryck på mig och Brown's är ett av dom. Vi har bott på otaligt många fantastiska 5 stjärniga hotell och don't get me wrong, de alla har sin unika approach men ibland upplever man 5 stjärniga hotell som har det där lilla extra, som gör att man väljer bort alla andra lyxhotell och väljer att komma tillbaka till just detta hotell och precis så känner jag med Brown's. Både jag och Johan måste alltid få en liten dos av Brown's varje gång vi är i London, annars känns det inte bra.
Brown's har gjort ett samarbete med hälsocoachen Madeleine Shaw, hon har skapat en hälsosam meny till hotellet för deras gäster för frukost, lunch och middag. Jag tycker detta är ett fantastiskt samarbete! Jag och Johan reser ungefär 120 dagar per år och även fast vi bor på fantastiska hotell så är det sällan som de erbjuder hälsosamma maträtter genomgående på deras menyer för både frukost/lunch och middag, du kanske hittar någon rätt här och där som är lite nyttigare men det är svårt att hålla sig consistent. Detta är ett samarbete jag verkligen sett fram emot att testa! Under vår första frukost under vår vistelse på Brown's så beställde jag en juice på morot/ingefära och apelsin, den var fantastisk! Johan testade deras 'Green machine' som är gjord på rismjölk, spenat, maca, mango samt avocado, den var riktigt god den med, lite mer som en smoothie i konsistensen, jag föredrog min juice! Jag beställde in 2 rätter, först och främst så testade jag deras acai bowl, jag hade kunnat hälla mig i den, den var helt strålande god! Jag testade även deras 'Shakshuka' gjord på kale & kummin bakade ägg med knäckebröd, greek yoghurt, oliver, labneh ost samt toasted pinjenötter. Jag var så otroligt nöjd med mina frukostval! Johan körde inte riktigt på samma hälsoresa som jag gjorde utan beställde in deras eggs benedict samt deras dropped scones, det är 2 favoriter vi har på deras meny, brukar alltid beställa dom rätterna när vi är här men icke sa nicke, jag ska fortsätta hålla mig till mitt hälsospår när vi är ute och reser, det är inte hållbart att äta 10 eggs benedict i månaden när man är ute och far och flänger även fast det är sanslöst gott. Någon gång då och då kan man unna sig men jag vill jobba på att få in en disciplin att äta så nyttigt som jag kan, på en realistisk nivå!
Location: Brown's Hotel, 33 Albemarle Street, London