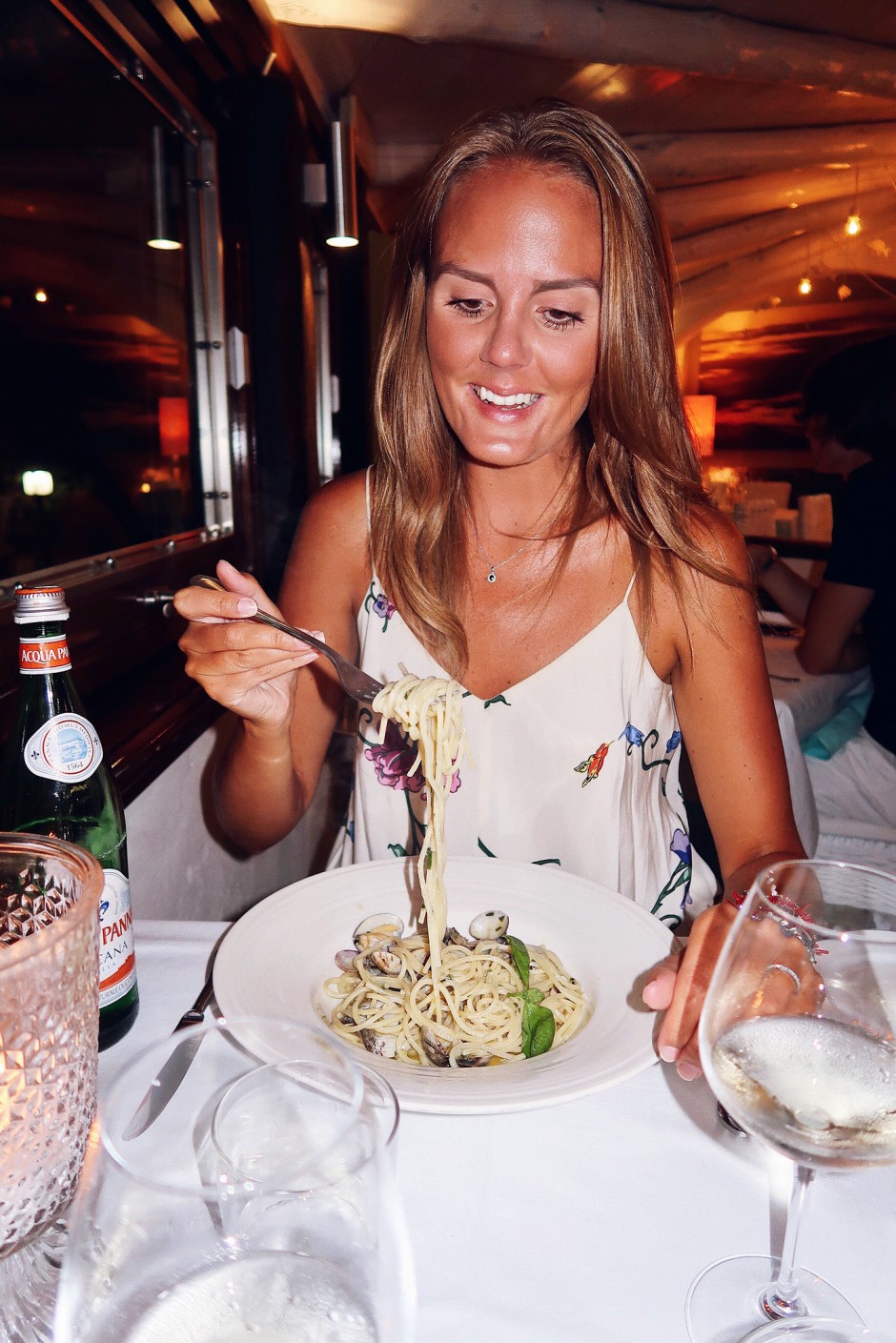 Photographer: Mon amour
THE 5 BEST RESTAURANTS IN PORTO CERVO, SARDINIA. Both Johan and I fell head over heels in love with Costa Smeralda, I spent a lot of time here during the summers with my family as a kid but I don't remember much except for the pictures that we have in our family albums. But I must say that everything was above and beyond the expectations that I had, the beaches, the crystal blue waters, the landscapes, the cute little villages, the people and the food. Costa Smeralda has a lot of passion and love in it, you can feel it as soon as you arrive on the island.
Something that both Johan and I learned very fast after spending 14 days on this island is that you eat dinner super late in Porto Cervo (And on the rest of the coast for that matter). As Swedish people we enjoy eating dinner around 19.30 but my oh my. If you eat dinner at a restaurant in Porto Cervo at 19.30 it will be  empty. People come out of their houses and boats to eat dinner around 21.30 – 22.00. We hadn't adjusted to the Porto Cervo lifestyle the first 2 days, we kept wondering why it was so empty everywhere, but then one day, we understood why, we came out to eat dinner pretty late in Swedish standard (Around 21.00) and we noticed that when we were eating dessert the restaurant was so crowded with people, even at 23.00 big families with kids rolled through the doors, ready to eat dinner. Absolutely fascinating! So remember this when you go out to eat dinner in Porto Cervo, make your dinner reservation at 21.30 or 22.00 if you want the restaurant to have people in it. If you come at 19.00 or 20.00 it will be pretty much empty.
The selection of restaurants in Porto Cervo is huge so it can be a bit hard at times to find the good ones as many of them are immensely overpriced and the food is not living up to the price at all. But Johan and I managed to go through the selection and find 5 favourite spots that we really enjoyed.
CLIPPERS – This is our favourite restaurant in Porto Cervo, we came back several time during our 2 week stay on the island and everything from the ambiance to the food is lovely. They are known for their fish and seafood selection.
Adress: Via della Marina, 10, 07021 Porto Cervo
SPINNAKER – Another great spot for seafood in Porto Cervo, I really enjoyed our dinner here, it's very speak easy and casual with focus on what's on the plate.
Adress: Località Liscia di Vacca, 07021 Porto Cervo
IL PESCATORE –  This seafood restaurant is super romantic, located by the water, the perfect spot for a date night with your loved one. The price point is a bit more expensive than the previous two but you also pay for the location which adds a lot to the experience.
Adress: Via Porto Vecchio, 07020 Porto Cervo
NOVIKOV – Do you want to eat delicious Japanese food while in Sardinia you should make a reservation at Novikov. This trendy spot has a great ambiance, beautiful interior design, a great spot for people watching and yummy foods.
Adress: Via Porto Cervo, 07021 Porto Cervo
RISTORANTE GIANNI PEDRINELLI – This restaurant is also the perfect spot for a romantic night out with your loved one to enjoy some superb Italian food and wines.
Adress: Località, Piccolo Pevero, 07021 Porto Cervo